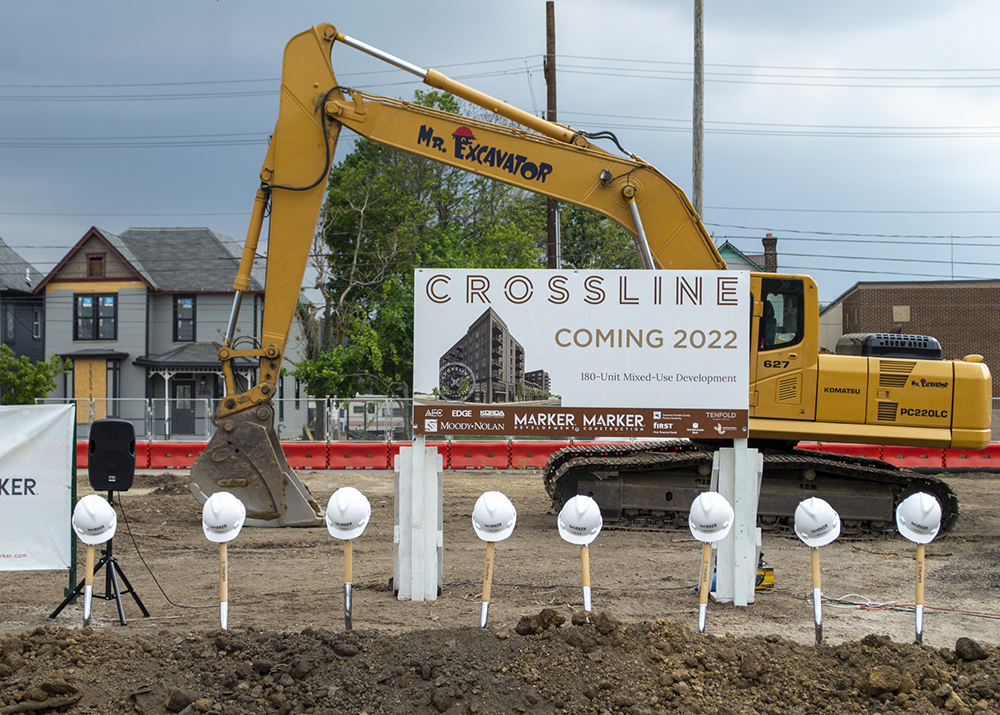 Our Marker Development and Marker Construction teams recently broke ground on a new mixed-use development in Weinland Park.
Crossline is a six-story mixed-use development with 180 residential units and 5,150 SF ground-floor commercial space available for lease. Amenities will include a lounge, gym, yoga room, elevated pool and courtyard, cold storage/package room, dog-washing stations, and bike parking with a repair room. Units will feature balconies, stainless steel appliances, washer/dryer, frameless showers and will be pet friendly. The development runs along East 5th Avenue from 5th Street to 6th Street and is the first Marker Development project to break ground in Weinland Park. This new development is a catalyst for a more vibrant 5th Avenue corridor.
 "We can't express enough how excited we are to bring this new development to Weinland Park. The Weinland Park Community Civic Association has welcomed us openly, and we are thrilled to reciprocate with an incredible facility and long-lasting relationship," states Kirk Marker, president of Marker Development.
The Crossline name comes from the origins of Weinland Park as a "streetcar suburb." This line allowed the neighborhood's growth, and the "line" symbolizes the grid of the streets, the streetcar lines that once crossed through the community, and its juncture in people's lives in Weinland Park.
"As someone who grew up in Weinland Park and attended elementary school here, it makes me proud to be part of the Marker team to continue to transition and revitalize this community," states Curtis J. Moody, FAIA, Founder and Chairman of Moody Nolan, the architect on the project.
The Crossline development moved forward with help from the Columbus-Franklin County Finance Authority, whose mission is to provide funds for economic development projects in Central Ohio. The partnership will allow significant savings from the project to be diverted as a donation to Community Shelter Board to help our City's homelessness and affordable housing needs.
Alison Marker, president of Marker Construction, shared, "We are particularly excited about our partnership with the Columbus-Franklin County Finance Authority. As a long-time volunteer and supporter of Community Shelter Board, I could not be more pleased about how this project will benefit CSB's efforts to help those most vulnerable in central Ohio."
 "The Crossline project enabled our organization to positively impact Central Ohio housing needs in two ways.  First, by supporting the construction of new market-rate and affordable housing units and second, facilitating support of the Community Shelter Board.  "We're pleased to partner with Marker Construction and look forward to future opportunities," Jean Carter Ryan, CFFA President, remarked.
The development is planned to be completed by May 2022, with pre-leasing to start in February 2022. Partners on the project include the Columbus-Franklin County Finance Authority, Moody-Nolan, Marker Construction, Korda/Nemeth Engineering, Jezerinac Geers & Associates, Advanced Engineering Consultants, Tenfold, Dickinson Wright LLP, Smith and Hale, and The Montrose Group.