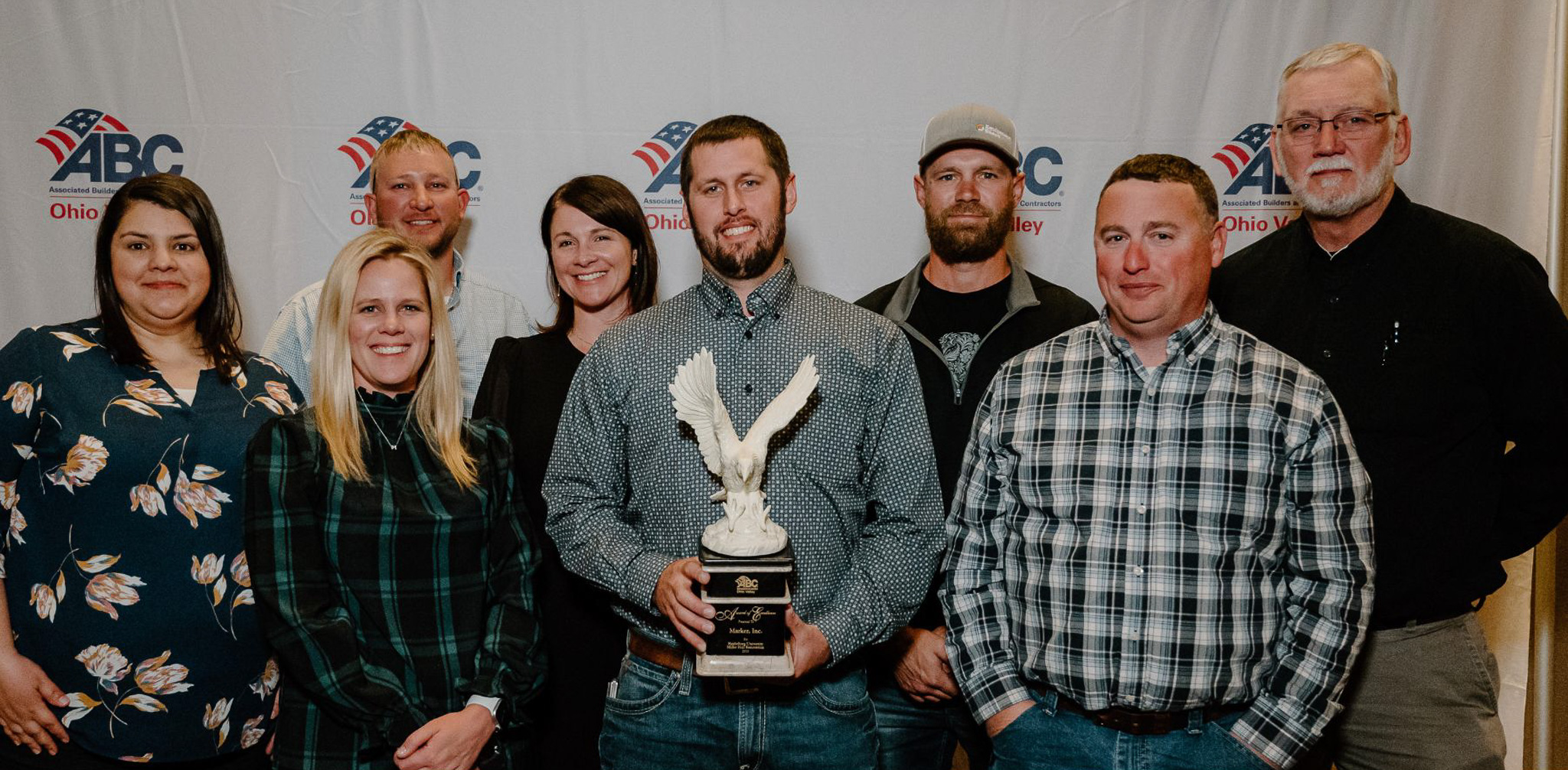 The Ohio Valley Chapter of Associated Builders and Contractors recently hosted its annual Excellence in Construction (EIC) Awards Gala to celebrate the most innovative and high-quality construction projects across the Ohio Valley. The EIC Awards recognize all construction team members, including contractors, owners, architects, and engineers. Winning projects are judged on complexity, attractiveness, unique challenges, completion time, workmanship, innovation, and safety.
We are thrilled to share that three of our projects have been honored at this year's event!
Peak Industrial Park II & III, a Marker Development project, brought home an Eagle Award of Excellence! Consisting of two 100,000-square-foot Class A industrial flex buildings in Bellefontaine, Ohio, the project features a poured concrete foundation, concrete hard walls, 10 dock doors, a drive-through door, and 2,275 square feet of office space. As a vertically integrated firm, Mark Construction and Marker Development efficiently and effectively managed the development and construction of Peak Park from initial conception through stabilization. The project involved a great deal of self-performance, and our crews worked up to six days a week during the winter months to keep the project on schedule despite the challenges posed by material deals. Because of our vertical integration, we were able to reallocate resources to ensure successful, on-time delivery. We are thrilled to have had the opportunity to bring Marker Development's first speculative industrial projects to Bellefontaine and create jobs for the local community.
Also bringing home an Eagle Award of Excellence was the renovation of Miller Hall, the largest residence hall on Heidelberg University's campus. Featuring suite-style dorm rooms unique to the original construction period, the renovation includes a new apartment for the Resident Coordinator with two bedrooms and a full kitchen, a first-floor lounge with a reading room and fireplace, and fully ADA-accessible dorm rooms. Additionally, each floor now features a kitchenette, laundry room, and "huddle room" for collaborating on projects and studying. With a strong partnership dating back to 2007, Heidelberg recognized the value of early teaming and brought Marker into the project concurrently with the architect. No renovation is the same; each has its challenges, and Miller Hall was no exception. But through teamwork, a strong partnership, and a shared vision, the project team worked diligently to maintain the schedule and minimize negative impacts on the timeline and budget.
Last but certainly not least, our team brought home a Merit Award for the build-out and renovation of the Goble Center for Women & Children. Part of Mary Rutan Health's (MRH) master facility plan, the build-out and renovation are much more than just upgrades to a 19,000-square-foot facility. By combining pediatrics and OB/GYN services into a single location, preventative and routine well-care for women and children are streamlined, changing how healthcare is accessed in the community. With a partnership that spans nearly 40 years and over 200 projects completed, Marker was selected to complete the renovation and build-out of the new center. Interior renovations include new rooms for patient exams and ultrasounds, new nurse rooms, new conference rooms, and new back-of-house facilities. Exterior renovations include an upgraded entrance complete with a new glass vestibule, new windows, a new concrete pad, and a new front-facing brick wall. We are proud to help MRH provide our community with much-needed local access to healthcare!
In addition to the EIC awards, Marker associate Patrick Center was nominated for Craftsperson of the Year. Marker was also awarded a STEP (Safety Training Evaluation Process) Platinum Award for our strong safety performance, processes, and policies.
Congratulations to the project teams of Corbin Ledley, Alex Yoder, Tyler Northeim, Josh Levy, Trevor Fess, and Chris Thornburg for their outstanding work on these projects. Your dedication and commitment to delivering innovative, high-quality projects is truly inspiring! Keep up the phenomenal job, and take pride in your accomplishments.