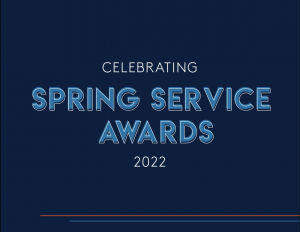 Marker Construction was proud to honor six associates at our recent Spring Service Awards event! The semi-annual awards celebration is an opportunity for Marker associates to come together and recognize the talent, value, accomplishments, and successes that these individuals bring to the organization.
Celebrating a combined 100 years of service, the associates honored not only represent Marker's core values, but have contributed to furthering Marker's mission in impactful ways. Their dedication to helping Marker build something significant is highly valued and deserves celebrating!
Thank you for your contributions and all that you do each and every day. We look forward to many more years together!
The following associates were honored:
Roger Born | Celebrating 25 Years
As a certified welder, Roger has a broad skill set that includes concrete, trenching and excavation, backhoes, and equipment operation – including cranes, skid steers, backhoes, lasers, and forklifts. On his first project back in 1997, Roger took a quiet but effective leadership role. From the start, he has shown his ability to lead and engage a group of associates and get the job done efficiently and intelligently. Known for his wealth of knowledge, commitment, and trustworthiness, Roger is always willing to take time to share his knowledge with other associates.
Ben White | Celebrating 20 Years
Bringing a tremendous amount of experience to his role as senior estimator, Ben remains calm and steady in the most challenging situations. A well-rounded professional, Ben is known for being reliable, resourceful, respectful, and trustworthy. Ben always has a positive attitude and is passionate about finding the best results for clients.
Jeff Quinton | Celebrating 20 Years
With a tremendous amount of experience in the carpentry trade, Jeff is known for being dependable and knowledgeable. Jeff consistently makes positive contributions to projects and is able to effectively build and manage positive client and subcontractor relationships.
Steve Bostick | Celebrating 20 Years
With a versatile skill set and extensive industry knowledge, Steve accepts every opportunity sent his way and completes them with pride and to the very best of his ability. Over the years, Steve has honed his skills in pluming, rough and finish carpentry, concrete, masonry, HVAC, equipment operations, and welding. Steve continues to impress others with his diverse skillset and his supervisory abilities. He keeps jobsites clean, organized, and safe, and takes pride in building relationships with clients.
Taylor Henry | Celebrating 10 Years
Over the last ten years, Taylor has been instrumental in placing thousands of yards of concrete. Taking great pride in his work, Taylor has worked in the very early hours of the morning as well as late into the evening. He is dependable, trustworthy, resourceful, and is 100% committed to his work. Taylor is known for working to the task and not the clock, and his work ethic sets an excellent example for all associates.
Chris Thornburg | Celebrating 5 Years
Chris exhibits all Marker's core values – he is trustworthy, resourceful, responsible, respectful, engaged, evolving, and empathetic. Known for never shying away from a challenge, Chris takes a pragmatic approach to problem solving and diving in headfirst. Chris is excellent at engaging clients and building relationships.